The Jimmy Fund
Fight Cancer by Supporting the Dana-Farber Cancer Institute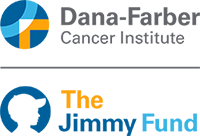 The Boston Red Sox MLB Baseball team has a long and proud history of supporting the Jimmy Fund. The Jimmy Fund is a Boston, MA-based charity that collects money to benefit the children and adult cancer center at Dana-Farber Cancer Institute. The Dana-Farber Institute was founded in 1947 by Dr. Sidney Farber. At one time the only advertising billboard that appeared in Fenway Park was a banner supporting the Jimmy Fund.
The first WEEI Jimmy Fund "Radiothon" was held in 2002. The Boston Red Sox-owned NESN Chanel joined the event and expanded coverage of the event in 2003.
History of "The Jimmy Fund" association with the Red Sox
Boston Red Sox / Jimmy Fund History
Since the very beginning of the Jimmy Fund has been involved with Major League Baseball Franchises. It was back in 1948 when the Variety Club of New England, now known as the Variety Children's Charity of New England, and the Boston Braves baseball team joined forces to help a 12-year-old cancer patient dubbed "Jimmy." Jimmy's visit with his hometown heroes was broadcast live on the radio from the boy's hospital bed. The emotion-filled broadcast flooded the organization that continues to bring hope to people everywhere who are suffering from cancer.
The Boston Red Sox association with the Jimmy Fund began in 1953 when then-owner Tom Yawkey proclaimed the Jimmy Fund as the Boston Red Sox official charity. The bond between the Jimmy Fund and the Boston Red Sox is deeper than ever. The entire organization from owners, coaches, players, and members of the Red Sox Nation supports the fund with appearances and fundraisers.
To make a one-time donation or ongoing contribution to the Jimmy Fund visit https://jimmyfund.org.